East Penn Pyr Rescue
Andre, Victim of Neglect
Andre' a few days after he arrived. Doesn't look happy. Look further to see why.
Mats on Andre's belly.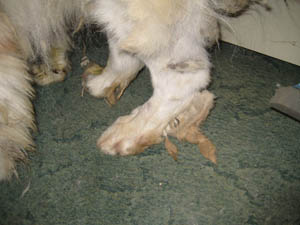 Mats on Andre's feet and hocks.
Mats on Andre's tail, pantaloons and dried feces.
Mats on Andre's chest.
Mats on Andre's chest closeup photo.
Many small mats on Andre's back.
Pile of mats taken off Andre'.
Mats from Andre' in grocery bag.
---
On or about December 7, 2011 I received a phone call from the dog warden in Carbon County. She wanted to know if we had room to take in a neglected Great Pyrenees. I already had enough dogs to deal with but this is the reason we are here. The next day, Dorene met the dog Warden at the owner's home and she gave up the dog to Rescue. His name was Andre' and he'd pretty much not had any grooming of his coat in 5 years! He had been kept in an outside kennel approx. 10X12 feet most of his life. I can only assume he was on concrete as his nails were not long. He had been fed Gravy Train (probably softened with water) as far as we know, for most of his life. As you can tell from his pictures his coat was in terrible shape. We had a mammoth grooming session of about 2 hours (Thank you Judy!) and removed all the large mats and got out many of the small ones. We did what we could with his horribly matted tail but most of the tail had to be left for another day. He was a really good boy for all of this but it was time for his Vet appointment! We had no record of any vaccinations so he needed to be seen to get a Rabies vaccination and a general health check. He toes out pretty badly in the rear and although I could not feel any knee damage I wanted to be sure. His teeth were caked with tartar and he had some yeast in his ears.

Andre' has an appointment to be neutered, get his teeth cleaned, remove some skin lumps (Vet is sure these are nothing to worry about but should be removed as these could accidentally be nicked while grooming) and have his hips x-rayed. I want the x-rays done as he is a bit weak in the rear. While we feel this is probably due to his small area confinement, and he has gained muscle in his back legs since he is able to walk about the large fenced areas here, we want to know if there are any major hip problems so we can treat accordingly. He gets up and down easily and does not seem stiff, but better safe than sorry. Andre' is going to be one expensive dog in Vet bills. The pictures above were taken just prior to our grooming session.

The owner told us Andre' does not like bones or biscuits. After several days of receiving bologna as a treat we switched to Milk Bones. Well, he sure likes them now! (would certainly prefer bologna though!) His teeth are slightly better but his breath still smells like something died in his mouth. Yuck! I'm looking forward to returning home on 2/9/12 with a dog that has sweet smelling breath once all that nasty placque is removed! The pictures below are the pictures of Andre' after his grooming. There is still more work to be done, but we make more progress each day. He is a sweet, loving, patient dog who deserves someone who will give him the proper care he both craves and deserves. He is now eating a good quality diet. While he was not thin when we got him, he is now building good, quality muscle. He weighed in at 103 lbs. his first Vet visit.



A much happier Andre' after grooming.
Andre' from the rear after grooming.
Note the lack of mats on his rear feet and his tail has been almost completely brushed out!
Andre after most of the back and side mats were removed.
A much more comfortable Andre' feeling and moving much better!.
---
| East Penn Pyr Rescue, Inc. | |
| --- | --- |